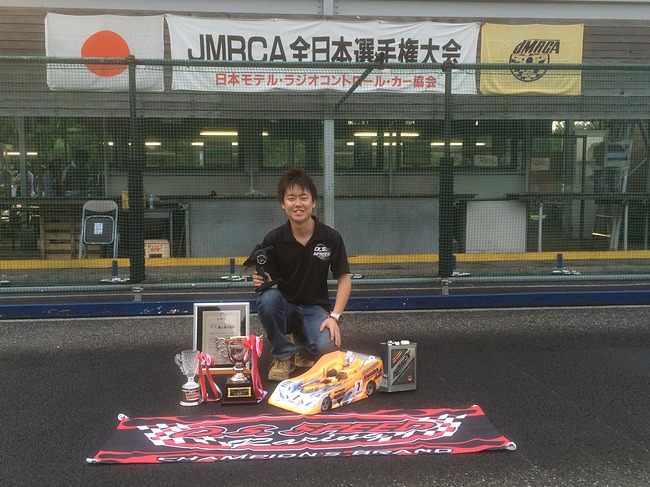 5月31日千葉県のケイチューンにて行われました、1/8オンロードレーシング全日本選手権にて、弊社社員O.S.ワークスドライバーの横山慎之佑が昨年に続き見事優勝を果たしました。
また、予選ではTQも獲得し、O.S.SPEEDエンジン、NITRO-X燃料、Futabaプロポによる大きな成果でした。サポートいただきました方々には改めてお礼を申し上げます。
Shinnosuke Yokoyama takes Japanese 1/8th nationals in a row!!
The Japanese 1/8th on-road national championship was run at the Kei tune Circuit in the Chiba prefecture last week end, where the world championship was held in 2013. A total of 41 drivers attended including guest drivers from Australia, Hong Kong, Indonesia, Italy, and Thailand. Among them, 9-time world champion Lamberto Collari, Carmine Raiola, a finalist in the 2013 worlds, were there. It had heavy rain all day on Friday, but the weather was good all the rest of weekend allowing for 6 dry qualifying rounds to be run. Defending champion, Shinnosuke Yokoyama, O.S. employee, took TQ with Syoki Takahata, current FEMCA champion taking 2nd, and Michihiro Takayasu, Futaba employee taking 3rd. In Qualifications, all the drivers above No.6 up to the top, used O.S. SPEED R2101 & T-2080SC.
In 45-minute final, Shinnosuke had been leading the race until 15 minutes for his first tire change. He took 2-stop tire strategy and 5-minute fuel stop relying on R2101's good fuel mileage. During his pit stop, Takehiro Terauchi took 1st place and stayed until 25minutes for his first tire change. He took 1-stop tire strategy to offset pit time of his 4-minute fuel stop. Takaaki Shimo and Shinya Shimazaki retired by middle stage of the race due to accident. After 40 minutes, Syoki Takahata and Carmine Raiola also stepped down the race due to machine trouble.
Then the race appeared to be one-to -one fight between Shinnosuke and Takehiro. The 2nd tire change at 30 minutes made Shinnosuke retreat to 2nd again, and Takehiro remained 1st until his last fuel stop at 42 minutes. Catching up Takehiro with fresh tires, Shinnosuke took him over and came back to 1st. Only a few minutes remaining, Shinnosuke and Takehiro battled to the end and finished the race neck and neck only with 1.06 second difference. Shinnosuke won the title in a row.
In the final, 7 out of 10 drivers used O.S. SPEED R2101 & T-2080SC silencer combination trusting its power, fuel mileage, and reliability. Total O.S' engine share in the event was astonishing 90%, which proves its superiority in the race.
Final result:
1.Shinnosuke Yokoyama - Mugen/O.S. – 155L
2Takehiro Terauchi – Mugen/Novarossi – 155L
3.Michihiro Takayasu – Hot Bodies/O.S. – 153L
4.Masao Tanaka – Infinity/O.S. – 152L
5.Hideo Kitazawa – Hot Bodies/ O.S. – 151L
6.Keisuke Fukuda – Mugen/ Novarossi – 144L
7.Syoki Takahata – KM/O.S. – 141L
8.Carmine Raiola – Infinity/O.S. – 140L
9.Takaaki Shimo – Mugen/ O.S. – 60L
10.Shinya Shimazaki – KM/ Novarossi – 47L