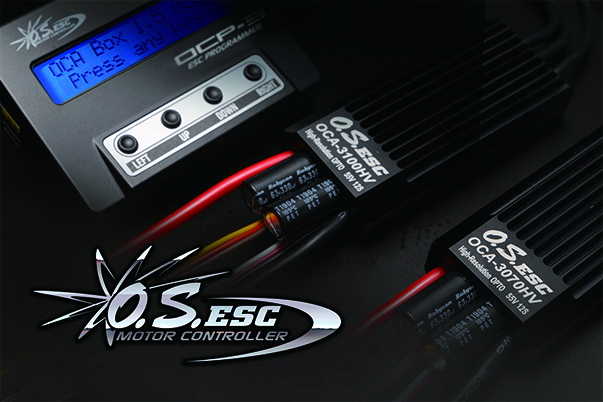 O.S. ESC series can bring out the full potential of the motor.
O.S. Brushless Motor Controller (ESC).
We have a lineup of ESCs that support various brushless motors as well as O.S. brushless motors. Not only the adoption of high-performance power FET, but also by equipping it with various functions will lead to bring out full potential of the motor.
OCA-3 series features
The OCA-3 series enables high-resolution automatic PWM frequency control and achieves a smoother throttle response. In addition, it can be expected that the battery life will be extended by improving the operating efficiency while maximizing the performance of the motor by the control program with the original algorithm. In addition, a unique active freewheel circuit has been adopted, making it possible to select a regenerative brake. An aluminum case with a block-shaped heat sink is used to efficiently cool electronic components. Various parameters can be set by a dedicated programmer (sold separately).
OCA-2 series features
All models of the OCA-2 series are equipped with an automatic advance function. The automatic advance makes it unnecessary to set the amount of advance according to the motor type, and you can expect smooth acceleration from low rotation and an increase in maximum rotation speed compared to the standard fixed advance. In addition, since the amount of advance angle becomes appropriate according to the rpm, the current consumption is reduced, and it is possible to fly for a longer period. However, depending on the pilot, the feeling of automatic advance may not match, so as a response to such cases, we equipped with a semi-automatic mode that can be selected in 3 stages and two general fixed modes. It is also equipped with governor function that is convenient when used in a helicopter. These settings are made with the included programming card (OCP-2). By adopting a switching method for BEC, the voltage conversion efficiency from the power battery to the servo power supply (5.5V) is improved. Since the rise in circuit temperature can be suppressed, reliability has been improved and longer flight time has been achieved.