Camshaft Housing: Decreased in width for less interference with the sides of the aircraft's nose section.

Mounting: The new FSα-56 retains the same mounting dimensions and spacing as the FS-52S allowing the engine to be interchanged.
| | |
| --- | --- |
| | Piston: As with other O.S. brand engines, the piston has been fabricated from a high silicon content aluminum. |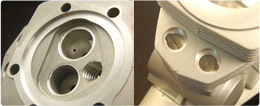 Crankcase Venting: No longer used. Excess crankcase oil is now drawn by negative pressure through notches cut in the sides of the cam follower housing through the pushrod tubes into the rocker cover and injected back into the engine combustion chamber via a pin hole drilled along the side of the intake valve guide.
A significant feature is the elimination of the crankcase oil breather nipple with the oil that would normally be expelled on the aircraft now being recirculated through the engine.
In addition, the connecting rod, wristpin and valve assembly have all been beefed up for increased strength and the carburetor modified for increased and more suitable performance.
If you are looking for an engine with the latest in engine technology, quality and power, you should consider the new FSα series engines.