1/8 GP Track Racing Engine O.S.SPEED R2101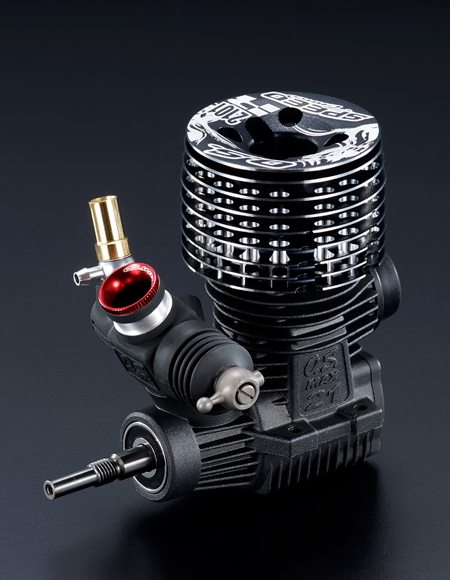 1/8 GP Racing, the fastest in the RC car racing field. The O.S.SPEED engine won the Japanese Championships in 2011 and 2013 with superb driving by Mr. Takaaki Shimo.
Towards the 1/8 GP Racing Car World Championships to be held in Japan October this year, a new further tuned model is going to be released. Excellent potential of the preceding O.S.SPEED 21XZ-R has been succeeded and all the possible knowhow to win the races has been implanted into a new weapon bearing a new naming "R2101". Needless to say DLC coated, weight pressed-in and potted crankshaft, crankcase is newly designed to secure smoother mixture flow from intake to exhaust. Newly designed 7+3 port cylinder liner ensures stress-free acceleration from low to high speed, great power at max rpm range and improved fuel mileage. Newly designed cooling outer head realizes both high cooling capacity and light weight due to machined cooling holes and low gravity, adopting new laser graphics "SPEED Brush Line". It is highly expected the new O.S.SPEED R2101 will exhibit good results at the major races including the coming World Championships.
FEATURES
Each major part is further tuned to ensure improved torque at rise and stress-free acceleration.
Crankshaft is weight pressed in and DLC coated. New machining is done on intake port to reduce intake drag.
Newly designed outer head realizes both improved cooling efficiency and lower gravity.
Black anodized carburetor body and metal insulator enable to run the engine with richer mixture.
Black anodized carburetor body and metal insulator enable to run the engine with richer mixture.
Carburetor metering needle is modified to ensure improved acceleration and torque.
ɔ8.5 aluminum carburetor reduce is installed.
A new 0.15t head gasket is supplied along with 0.1t gasket, which enables to be adjusted by 0.05mm.
SPECIFICATIONS
DisplacementĀF 3.49cc 0.213cu.in
Bore: 16.08mm 0.633in.
Stroke: 17.2mm 0.677in.
Practical RPM: 4,000~45,000r.p.m.
Power Output: 2.80ps/33,000rpm 2.76hp/33,000rpm.
Weight: 340g 11.99oz.
Standard accessories
Glow Plug T-RP7/Exhaust Seal Ring/Taper Collet